Tanzania Best Safari Destinations
Mount Kilimanjaro Climb and Tours
Africa's tallest peak creates an instantly recognizable silhouette, rising all alone from the acacia forests and scrublands at the border of Kenya and Tanzania. At 5,896m, the world's tallest freestanding mountain can certainly seem imposing but that doesn't mean it's out of reach.
We offer a range of Kilimanjaro routes to suit every trekker's experience and fitness level, getting you to the summit with the best team possible. While the climb will be difficult, it's only when you're sitting at the summit with the sprawling savanna far below that you realize the simple truth: it was all worth it.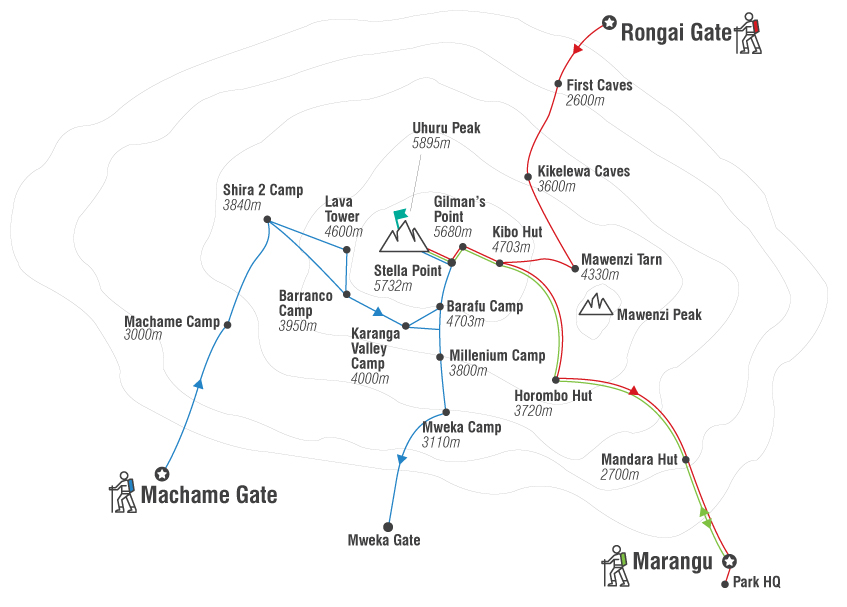 Machame Route
Despite being longer and more arduous than the Marangu and Rongai trails, the Machame route has emerged in recent years as a popular choice for trekkers. The 40-kilometer trail passes through cloud forests and moorland zones to the glaciated precipices of Kibo's south face. Unlike the Marangu and Rongai routes, trekkers descend via the Mweka route – a steep but scenic path through dry mountain desert and lowland forest.
Rongai Route
A trail that winds along the north-eastern side of the mountain near the Kenyan border, Rongai offers up a different side to Africa's most famous mountain. The route attracts a lower number of climbers than Marangu and Machame, which means the wilderness feels particularly pristine.
Fewer people mean there's a greater chance of seeing wildlife on the Rongai trail than on the other routes. This route also approaches Mount Kilimanjaro through rural heartlands, allowing trekkers to see Chagga village life.
Marangu Route
This five-day climb is the most popular and direct of the Kilimanjaro routes, passing through vast grasslands, giant cacti fields, and alpine meadows set against dramatic mountain peaks. It's also the only route where camping is not needed, with trekkers sleeping in huts dotted along the way.
The 35-kilometer uphill walk is well maintained and the views from the summit are striking. As the Marangu route is shorter, the period to acclimatize is also shortened and this has an impact on the trail's overall success rate.